AIGA Raleigh and Centerline Digital Presents
Kyle Webster: Digital Illustration / Emulating Natural Media with Digital Tools Workshop

A 3+ Hour Digital Illustration Mic Drop!
FREE ticket to Kyle's talk on Friday eve with Workshop Purchase!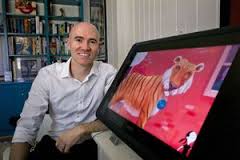 In his own words...
Photoshop gives us the power to emulate natural media beautifully, thanks to its robust and revolutionary brush engine. In addition to the flexibility this offers artists, there is the added benefit of being able to experiment and mix traditionally incompatible media to create unique styles and effects in our illustration work. Want to paint with watercolors on top of thick oils? No problem. Best of all, nothing is permanent- by using additive and subtractive techniques, the digital canvas is endlessly editable. In this live session, Kyle T. Webster, creator of the world's most renowned Photoshop brushes, will demonstrate some of his favorite techniques for using this amazing software to create a series of spontaneous images that have both the look and feel of traditional media, as well as a little something extra that could only be achieved in a digital environment.
"I took Kyle's workshop at ICON - The Illustrators Conference a few weeks ago and it was a game-changer in my illustration work. From optimizing your workspace and your tablet settings to emulating all sorts of natural media, Kyle led us through it all with a smile on his face and true love for the art showing every step of the way"
- Lenny Terenzi, Vice-President AIGA Raleigh, Proprietor, Hey Monkey!
Workshop Requirements:
You get the most out of this workshop if you have/bring your laptop with Photoshop CS6 or higher installed and one of the following.
You will also need these brush packs from Kyle
Megapack
Real watercolor
Spatter (optional)
If you have these brush sets, great! If not, Kyle is offering 50% off the sets for you! Once you purchase your ticket your confirmation email will have a special code for you to enter at kylebrush.com!
Interested in getting a tablet?
About Kyle Webster
Kyle T Webster is an international award-winning illustrator, living in North Carolina, who has drawn for The New Yorker, The New York Times, Wall Street Journal, BusinessWeek, Entertainment Weekly, Scholastic, Nike, IDEO, and many other distinguished editorial, advertising, publishing and institutional clients. He has created two top 50 mobile games, and he is the founder of KyleBrush.com, the company behind the world's best-selling Photoshop brushes for professional illustrators, animators, and designers. Kyle also currently teaches Life Drawing, Portraiture, and Digital Painting at the UNC School of the Arts.