AIGA RALEIGH PRESENTS
French Paper: The Road to 150
Friday May 18, 2018
6:30pm to 9:00pm
Hey! Monkey & Supergraphic
105 Hood Street
Durham, NC
French Paper is hitting the road with tons of design goodies. Come out and help them celebrate 150 years of business right here in Durham. 
Join us in welcoming the legendary French Paper Co. to Durham, North Carolina on their nationwide tour celebrating 150 years in business. Come have a drink, hear from Brian French, and explore the gallery full of design goodies from the past 30 years of French Paper.
Speaking of design goodies. EVERY attendees gets this swank French poster... FOR FREE!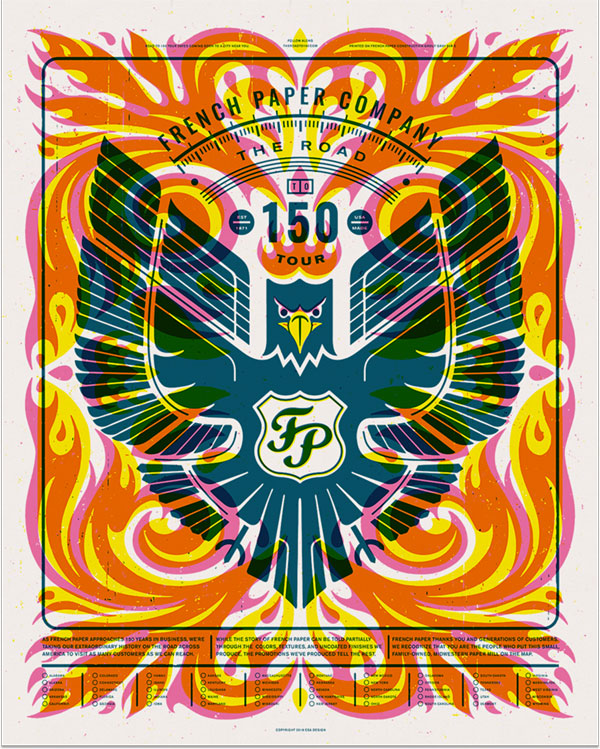 Brian French, Head Honcho at French Paper will give a talk at 7pm and the gallery will be open until 9pm. So many historical French Paper goodies will be on dispay that we had to have the gallery stretch across the Hey Monkey and Supergraphic Studios. This will be a paper and print tour-de-force! But it's Friday night y'all so come out and hang and then we can get some drinks and dinner afterwards.
Doors Open at 6:30

Brian French speaks at 7:00pm

Gallery open until 9:00pm
From French Paper
"As we approach our 150th anniversary we have started to gather and reflect on past printed materials and promotional items. Seeing everything together, we knew this collection was too cool to keep to ourselves and that we had to bring the collection back to the people that made it all possible.
With that, The French Paper Road to 150 Tour was born. An exhibit made up of 30 plus years of historical items will be traveling around the country, piloted by the French family themselves. City by city, the Road to 150 Tour will bring new meaning to the term work and turn.
The design and print communities are truly the reason that French Paper is able to reach this goal, so we are dedicated to taking this tour as far and wide as possible."