AIGA Raleigh and Raleigh Raw present
Dig Deep Into Your Intentions
A Homegrown After Dark Event
Monday, Feb 20 7pm
This is a first of its kind for our chapter. Leslie Woods of Raleigh Raw has come up with a workshop that we feel is sorely needed in today's day and age of distraction after distraction.

In a nutshell, the workshop is 45 min to 1 hr and requires all participants to dig deep into their intentions. To really questions what their underlying motivations are. I created the exercise because I often found myself achieving goals and then feeling empty or lackluster about them. The response from both men and women from all age groups has been incredibly positive. Participants leave with a renewed sense of confidence and excitement about their forward momentum. 
If you would all be so kind as to email me (lenny.terenzi@raleigh.aiga.org) with your dinner order by Sunday that would be fantastic.
You may choose from either a Poke Bowl or a Sushi Roll. You will be able to order a juice or other beverage at the event as well. You should see some embedded images of the menu below and a PDF link can be found here:
https://dl.dropboxusercontent.com/u/997575/HomegrownRaleighRawMenu.pdf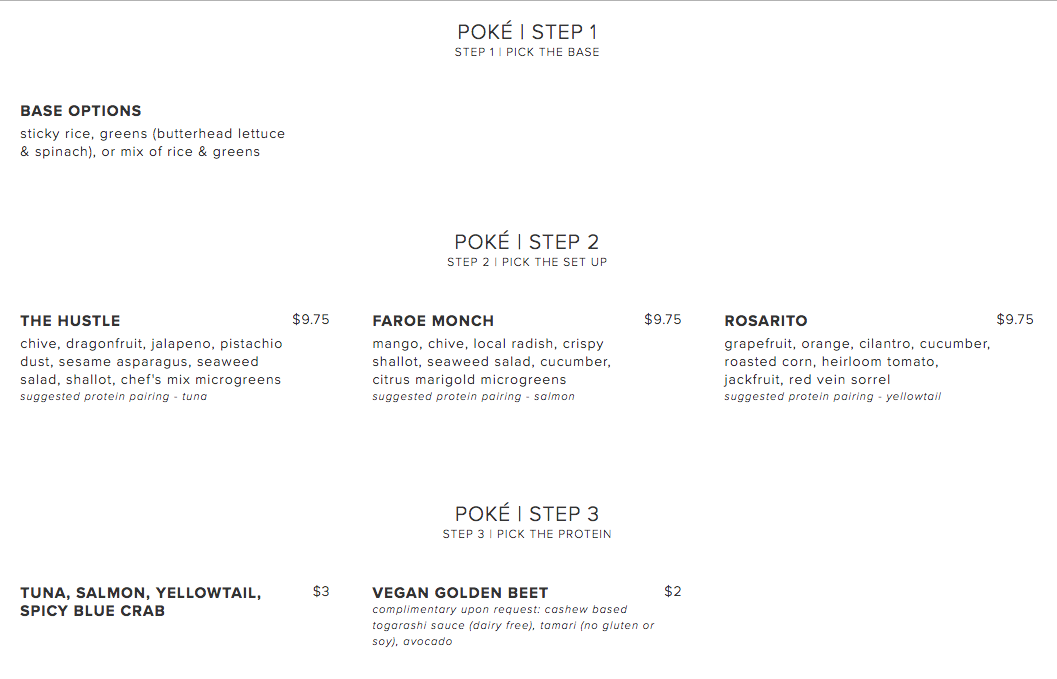 ---
About Raleigh Raw
Raleigh Raw was created to inspire an optimal lifestyle through connection, acceptance and healthy highs.
We began by delivering our 100% Raw, Organic, and Cold Pressed juices through out the Triangle circa 2013.  We believe in the power of raw juice, pressing up to 5 lbs of produce into each 17oz bottle, which is the perfect way to get clean, healthy, and fast nutrition. Visit them online at http://www.raleighraw.com/
Homegrown After Dark: A Dinner & Learn Series from AIGA Raleigh
Things change fast in our industry, and it's important for us to grow our non-traditional design skills. This monthly lunch (or dinner) series brings local, "homegrown" experts together with designers for an intimate, in-depth discussion of different skills or topics that will help designers add a few skills to their toolbox. Homegrown is your opportunity to have a meal with the smartest people in town!