Supergraphic Print Lab opens their door from 8AM to 5PM, Sunday, July 1st, for 10 people to help screenprint and letter various posters, signs, patches, and more to be packaged and donated to the North Carolina chapter of the Poor People's Campaign. We will start the day with a discussion on design and its place for community activism in the 21st century. The talk will be from 9AM - 10AM. Screenprinting starts at 10:30AM. This is a strong start to help you learn about community organization, design history, about Design for Good!
This event is free but RSVP is necessary due to space limitations, so first come first serve! Reserve your spot now! As space is limited, please do not sign up if you cannot attend the full day.  No screenprinting experience is necessary, and we will have supplies on hand. Please wear clothes that you don't mind getting ink on.

Below are some of the artwork we will be working with and talking about.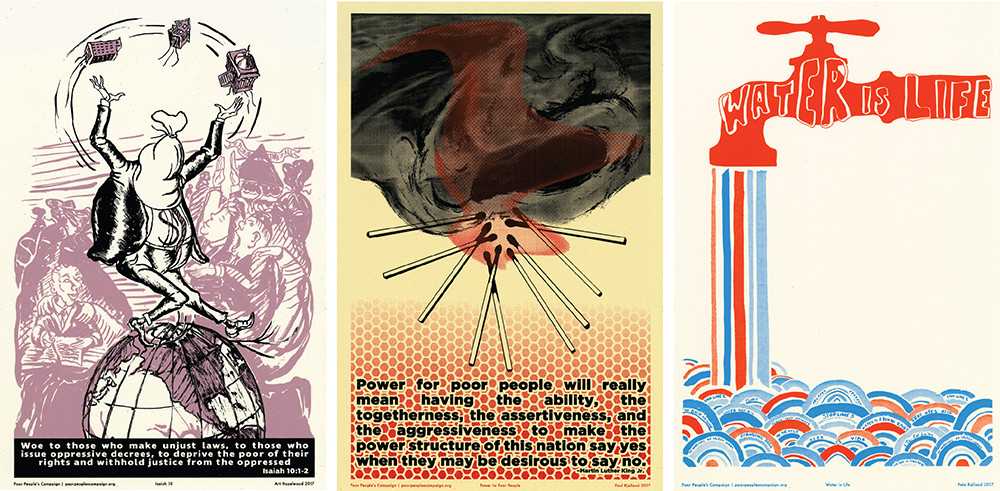 The Poor People's Campaign is the contemporary revival of Martin Luther King's last major campaign. Focused on developing a bipartisan, "fusion politics", Reverend Barber has been dedicated on educating Americans on a diverse set of problems along with their solutions across over 25 states to begin a massive fight on poverty, all with the starting point of changing our moral compass.
More information can be found at www.poorpeoplescampaign.com and www.justseeds.org