AIGA Raleigh Presents
THRIVE 2019
Conference: Friday, March 15, 2019 
Workshops: Saturday, March 16, 2019 (tickets sold separately)
Workshops can be purchased here!

AIGA Raleigh is proud to present THRIVE 2019,  a two-day supercharged creative conference. Much like the mission of AIGA Raleigh, which is to create a place where design thrives for everyone, THRIVE hopes to inspire the creative leaders of today and our future creative leaders through Design Empowerment, helping to enable social change through Design Impact and to cultivate the creative community through Uniting People.
Fresh off the huge success that was THRIVE 2018, we are taking everything that was great about last year and turning up the volume. New this year: workshops! Day two of THRIVE will consist of workshop sessions (tickets sold separately). Some of which will be taught by our speakers and others will be workshop only talent. 

Workshops can be purchased here!
Student Tickets are available in a limited quantity. You MUST bring your student ID when you check in. 

Group Rate tickets are available for purchases of 5 or more. They are $10 off per ticket based on the Gen Public cost. 

WHO ARE THE SPEAKERS?
We have started announcing our speaker lineup and will be dripping it out throughout Dec. and Jan. Keep checking back to see the full lineup of speaker and workshop presenters.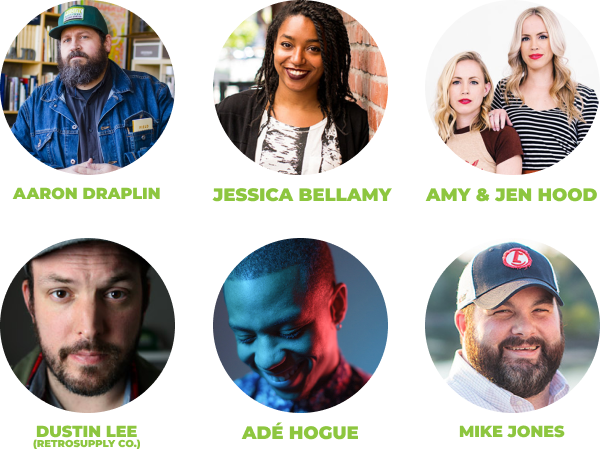 CONFERENCE SCHEDULE
The full schedule will be announced once all our speakers and workshops have been confirmed. But to give you an idea of how the days will run. Schedule subject to change without notice. 
Friday, March 15
Conference Speakers
9am - 5pm (There will be lots of time for lunch and hanging out!)
The schedule is subject to change without notice. 
8:30-8:45 AM
Doors open
9:00 AM
Introduction
9:15 AM
Mike Jones
10:05 AM
Jessica Bellamy
10:50 AM
Break
11:15 AM
Dustin Lee
12:00 PM
2:00 PM
Lunch
2:05 PM
Amy & Jen Hood
2:55 PM
Ade Hogue
3:45 PM
Break
4:15 PM
Aaron Draplin
5:00 PM
Closing Remarks
5:15 PM
Vendor Hall
7 PM
After Party
Location to be announced soon
Saturday, March 16
Conference Workshops (tickets sold separately)
Purchase Workshops Here
Workshops will run throughout the day 9am to 8pm in tracks. You will have the ability to purchase and attend several workshops. Workshops will cover topics like Hand-Lettering, Branding, Freelance Business, Passive Income, Vectoring in Illustrator and more.